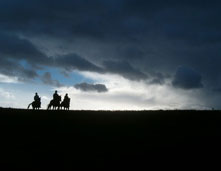 When you live and play in the gorgeous NC Blue Ridge Mountains and the Banner Elk and Linville regions of the High Country, you get to see parts of the mountains and valleys that are typically hidden to visitors. Getting out and enjoying the sights and sounds of the mountains is a wonderful part of the lifestyle that the scenery and region affords. Banner Elk and the High Country of Western North Carolina is a horseman's paradise. There are numerous trails to take advantage of in the pristine wilderness as well as easy, guided trail rides for riders of all levels. Horseback riding in NC is the perfect way to discover new marvels in this region of the Blue Ridge Mountains.
Most of the companies and farms listed below offer horseback riding lessons, boarding and a few have trails to ride. If you are interested in the horseback riding trails in the region, they can give you expert advice on the top places to go in the area. Moses H. Cone Memorial Park is one location nearby with 26 miles of trails to ride and the landscapes and hidden vistas you'll see along the ride are simply must sees. The Blowing Rock Equestrian Preserve is located adjacent to the trails at Moses Cone. The Blowing Rock Equestrian Preserve is home to the oldest continuous horse show which is held in July and August of each year. Parts of the Blue Ridge Parkway are also perfect spots to go horseback riding and there are a few hidden trails along the way. Being able to go places most visitors don't get to travel allows riders to witness views that are second to none.
When you buy real estate in Banner Elk you'll enjoy the mountain air, breathtaking landscapes and panoramic views, and you'll live close to some great locations and horseback riding trails. Whether you are looking for lots of NC mountain land for you and your horse to roam or would like to find a gorgeous Banner Elk home for sale near some of the excellent boarding facilities, we can help you today. Take a moment and browse our listings of Banner Elk Real Estate. You'll find gorgeous NC mountain homes for sale in Banner Elk, Linville, Sugar Mountain and Beech Mountain. We specialize in NC mountain real estate in private, gated communities and renowned neighborhoods . Contact us today.
Banner Elk Stables
796 Shomaker Road
Banner Elk, NC 28604
828-898-5424
Blowing Rock Equestrian Preserve
1500 Laurel Lane
Blowing Rock, NC 28605
828-295-4700
Chadi Farms
4635 NC Hwy 194 South
Valle Crucis, NC 28691
828-963-5399
Celtic Unicorn Stables
233 Pinehill Rd
Boone, NC 28607
828-963-7856
Dutch Creek Trails
3287 Hwy 194 South
Sugar Grove, NC 28679
828-297-7117
New River Ranch
180-5 Gleneagles Drive
Boone, NC 28607
828-264-6782
The Inn at Yonahlossee
226 Oakley Green
Boone, NC 28607
800-962-1986
828-963-6400
Please click on the links below for more area information: