Banner Elk is located in Avery County North Carolina and has a population of about 900 people. This North Carolina mountain town sits at 3,739 feet above sea level and is located in the extreme northwest part of the state, just minutes from the Tennessee border. Because of Banner Elk's elevation, the climate tends to stay relatively mild during the summer months with warm days and cool nights.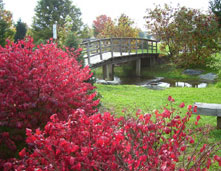 Banner Elk is a very unique mountain town where many people choose to own a summer home or simply vacation during various times of the year. During the summer months, the population of Banner Elk increases drastically because of vacationers trying to escape the summer heat at one of our prestigious NC gated communities. During the winter months, ski and snowboard enthusiasts travel from all over the Southeast to enjoy the four NC ski resorts that are located in or near Banner Elk. Each season in Banner Elk provides for different outdoor activities, which make it an outdoor devotee's dream. With Banner Elk's location being in the Blue Ridge Mountains, there are numerous things to enjoy - even if it is just a drive on the Parkway to see the vibrant fall foliage the region is famous for.
In addition to the outdoor activities available in Banner Elk, there are several other factors that make this such a unique place. Lees-McRae College, a small liberal arts school is located here, provides cultural events and activities for the whole town to take part in. There is a wide variety of restaurants to choose from, whether you are looking for a quick sandwich or the whole experience of dining at one of the area's finest restaurants, which include some of the best restaurants in the state of North Carolina. Banner Elk also has great shopping and other activities, as well as festivals to enjoy year round. This small NC mountain town will feel like home immediately with the friendly people and a combined effort from the town and chamber to make Banner Elk what it is today. Browse for Banner Elk Real Estate and Western North Carolina Land for Sale across the High Country.
Please click on the links below for more area information: