Banner Elk and the surrounding regions in the NC Blue Ridge Mountains are home to some phenomenal dining with a variety of cuisine choices and excellent restaurants. No matter what your preference, in Banner Elk and the resort towns of Linville, Sugar Mountain and Beech Mountain there is a restaurant, pub, or deli that everyone will enjoy.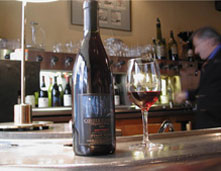 Dunn's Deli, Carolina's BarbeQue, Banner Elk Cafe and Nick's have excellent sandwich entrees and wonderful atmospheres. Bella's and Sorrento's World Famous Bistro feature the very best in authentic Italian cuisines, and at Zuzda's one can enjoy their 100 item tapas menu. If you are looking to feast on delicious steak and seafood, dine at Stonewalls, the Best Cellar or Mountain Tavern for excellent cuts and wonderful options. Beech Haven Restaurant is another local favorite known for their breakfast and lunch buffets. Banner Elk restaurants North Carolina offer permanent and part time residents, as well as visitors to the area the very best in dining experiences.
The Banner Elk Winery is the first commercial Winery in Avery and Watauga counties. The rugged mountain terrain and characteristics of the Appalachian Mountains is captured in each of the local varietals created here. The winery is located on a 25 year old blueberry farm and operates in tandem with the Villa at Blueberry Farm, an eight bedroom luxury bed and breakfast. The Villa overlooks the winery and surrounding fields of fruit, which enhances the beauty, charm, and romance of this true mountain treasure.
Browse through our site and learn more about the great North Carolina Mountain Property for sale. Take a look through our listings and let us show you gorgeous Blue Ride Mountain real estate for sale with breathtaking views and private locations just right outside of Banner Elk. Contact us today!
Artisanal
4501 Tynecastle Hwy
Banner Elk, NC 28604
828-898-5395
Banner Elk Cafe
324 Shawneehaw Ave
Banner Elk, NC 28604
828-898-4040
Banner Elk Winery
60 Deer Run Lane
Banner Elk, NC 28604
828-260-1790
Bayou Smokehouse
130 Main Street East
Banner Elk NC 28604
828-898-8952
Beech Haven Restaurant
444 Beech Mountain Parkway
Banner Elk, NC 28604
828-898-9484
Bella's
3585 Tynecastle Highway
Banner Elk NC 28604
828-898-9022
Carolina's BarbeQue
500 Pineola Street
Newland, NC 28657
828-737-0070
Carolina Canteen
2015 Tynecastle Hwy
Banner Elk, NC 28604
828-898-8480
Dunn's Deli
134 West Main Street
Banner Elk, NC 28604
828-898-6731
Jackolope's View
2489 Beech Mountain Pkwy
Banner Elk, NC 28604
828-898-9030
Los Arcoiris
431 Beech Mountain Parkway
Banner Elk, NC 28604
828-898-4123
Louisiana Purchase
397 Shawneehaw Avenue (Highway 184)
Banner Elk NC 28604
828-898-5656
Mountain Tavern & Grille
3990 NC 105 Hwy
Banner Elk, NC 28604
828-898-5652
Nick's Restaurant
Tynecastle Hwy 184 - Shopping Center
Banner Elk, NC
828-898-9613
Palate Restaurant and Corner Bar
115 Shawneehaw Avenue
Banner Elk NC 28604
828-898-8668
Sorrento's World
Famous Bistro
176 Village Shops
Banner Elk, NC 28604
828-898-5214
Stonewalls Restaurant
Shawneehaw Ave
Banner Elk, NC 28604
828-898-5550
The Best Cellar
3612 Mitchell Avenue
Linville, NC 28646
828-733-4747
The Old Hampton Store & Grist Mill
87 Ruffin Street
Linville, NC 28646
828-733-5213
Zuzda
502 Main Street West
Banner Elk NC 28604
828-898-4166
Please click on the links below for more area information: