Linville NC has been a renowned resort village for well over 100 years and today continues to be a place of great beauty that offers a unique mountain lifestyle. In 1891 a Harvard Professor vacationed in the little town and said that he had found a place resembling Heaven on Earth; today that atmosphere has flourished, and Linville NC continues to welcome visitors and part time residents throughout the cool summers and crisp winters.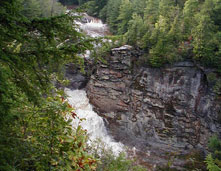 Even though Linville North Carolina is just a small area, the town is home to many gated communities and distinguished neighborhoods and the area is favorable to seasonal activities like golf, tennis, snow skiing, hiking, canoeing, trout fishing and hunting.
The surrounding NC mountain Land has a rugged terrain, but the vistas and valleys that span throughout are lush and green, even as the little town straddles the eastern continental divide at 4,000 feet above sea level. With the Blue Ridge Parkway snaking through the region, Linville NC is home to beautiful sights and mountain attractions such as Linville Falls and Linville Caverns. The surrounding Linville Gorge Wilderness is the third largest wilderness area in North Carolina and truly a spectacular region of the NC Mountains.
Whether your wants and needs are suited to an elegant NC mountain cottage, a large townhome in the middle of Banner Elk, or an NC luxury mountain estate with private locations, we can help you with all your real estate needs. Take a moment and browse through our Linville Real Estate listings and Banner Elk Real Estate and properties for sale, and contact us today.
Please click on the links below for more area information: