The Banner Elk area is alive with festivals and special events year round, and all are family oriented. The following is a brief overview of some of the most popular events in the High Country Area.
Concerts in the Park
Concerts in the Park Each Thursday night in Banner Elk in July and August you can enjoy some great live music at Banner Elk Park. The Concerts in the Park series has been offering free live entertainment to the public for the last several years. This is a great way to spend time with friends and family in downtown Banner Elk while enjoying some free live entertainment and cool summer evenings.
Fourth Of July Celebration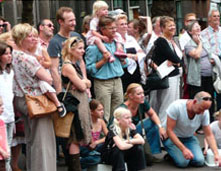 Fourth Of July Celebration Each year the town of Banner Elk and the Banner Elk Chamber of Commerce hosts a Fourth of July parade through downtown. The parades feature live music, cultural performers, local dignitaries, fire trucks, and more. The parade usually begins at Lees-McRae College and ends at Tate-Evans Town Park. Following the parade, you can enjoy some great food, drinks, and games at A Party in the Park. Local artisans and craftsman are usually on hand selling local arts and crafts as well.
Annual Roasting of the Hog and Fireworks Display
Annual Roasting of the Hog and Fireworks Display This annual event is held on Beech Mountain. Volunteer cook tons of pork for the hungry visitors.
Grandfather Mountain Highland Games and Gathering of Scottish Clans
This is the premier Highland Games in America attended by thousands of people from the world over. As the name implies: its all about everything Scottish and features numerous events from marathons to bike races to music and dancing.
Avery Chamber of Commerce Fine Arts and Mastercrafts Festival
A premier juried art festival featuring fine artisans and their wares. Articles for sale run the gamut from fairly inexpensive to items in the thousands of dollars. Fine hand crafted furniture, sculptures, paintings, jewelry, pottery, stained glass, leather and much more are available.
Avery Arts Council Riverwalk Arts Festival
Avery Arts Council Riverwalk Arts Festival Located on the Riverwalk in Newland, North Carolina. This event is sponsored by the Avery County Arts Council. The Friday Night Street Dance kicks off the two day event. On Saturday, over 50 artists and crafters offer their wares as live local music fills the air. There will be a wide variety of food vendors and even a Children's Corner to make this a perfect family event.
The Mile High Kite Festival
The Mile High Kite Festival Beech Mountain plays host to this annual event as part of their Labor Day Weekend festivities. Located at 5,506 in elevation, Beech Mountain is the highest incorporated town east of the Mississippi river and is the coolest place you'll ever fly a kite! Two kite clubs will be on hand for demonstrations and instruction to help people make their own kites. Free kites will be given to the first 150 kids in attendance under the age of 13. Festivities kick off with a street dance beginning at 7 pm outside the Beech Mountain Town Hall on the night before the festival.
Avery County Agricultural and Horticultural Fair
Avery County Agricultural and Horticultural Fair Avery county's annual country fair features everything you would imagine it would have and much more. Livestock, produce, arts and crafts as well as Frasir Fir Christmas Trees will be judged and the winners awarded blue ribbons. Tons of midway rides, live music and food will be available.
Autumn at Oz
Autumn at Oz Beech Mountain is the location for this nostalgic event as visitors are invited to celebrate the Wizard of Oz by strolling down the Yellow Brick road. Visitors will meet Auntie Em, Dorothy and other Oz friends. Oz related trivia items are for sale at the concession stand and there are many other activities such as a petting zoo, Oz museum, mountain music, square dancers and face painting are all part of the fun. Over the years, the event has also included a few of the original munchkins from the movies.
30th Annual Valle Country Fair
30th Annual Valle Country Fair Attended by over 10,000 folks each year, this has become one of the major events in the High Country. Holy Cross Episcopal Church originated the event 30 years ago and uses the proceeds to fund parish outreach ministries.
Held in one of the most beautiful areas of the High Country, historic Valle Crucis, this festival features a full slate of fun for the entire family. Juried crafters offer a wide variety of quality products and donate ten percent of their sales to the event's charities. Live entertainment such as cowboys, magicians, live music and cloggers provide a lively atmosphere and takes place at the Valle Crucis Conference Center on Hwy 194. Food booths are run by local churches and area organizations and there is a huge selection to choose from. Hours are 9 am until 4 pm.
Wooly Worm Festival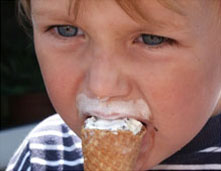 Wooly Worm Festival The town of Banner Elk is the site of one of the most unusually themed festivals in the United States. Held each year since 1976 on the third weekend in October is the Wooly Worm festival. It is truly a gorgeous setting for a ridiculously fun event.
Each year, one thousand or so worms are hand picked by festival visitors to be entered in the races as they vie for the $1000.00 first prize. Some folks find their own worms but they can also be purchased at the festival. The 'race tracks' are actually 20 vertically hung three foot pieces of string upon which the worms are placed. Then the fun begins.
Upwards of 25,000 people attend the festival each fall to enjoy the races and related activities. Dozens of crafters display their wares and food vendors sell an incredible array of tasty treats. Carnival rides, live music and even helicopter rides round out the activities of this two day event.
A portion of the proceeds of the festival are used to benefit children's charities in Avery County and is sponsored by the Banner Elk Chamber of Commerce in conjunction with the Kiwanis Club. For more information, phone 828-898-5605.
Please click on the links below for more area information: